2023 Support Staff Conference
Thank you to everyone who participated in the 2023 Support Staff Conference in person or by Zoom!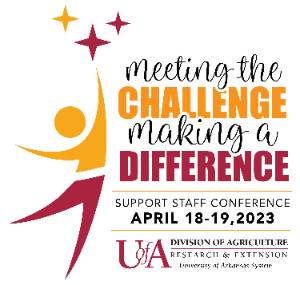 Conference Recap
At-a-Glance In-Person Agenda for those attending the conference in person at the Vines 4-H Center. View the full program.
At-a-Glance Zoom Agenda for those participating virtually. View the full Zoom program.
Session Presentations, Handouts & Other Resources
The 2023 Support Staff Conference Library is now available in Box. Check it out to find the presentations and resources shared during the conference sessions.
Zoom Conference Session Recordings
Appreciation Station Shout Outs
We had a fun time reading all the comments posted on the Support Staff Conference Appreciation Station! UADA employees can read the posts here. If you would like a PDF version, please email Vanessa Lewis at vlewis@uada.edu.
Congratulations to Beverly Brown!
The conference planning team would like to congratulate Beverly Brown, Administrative Specialist III from Dallas County, for submitting the winning theme for this year's conference - Meeting the Challenge, Making a Difference. Thank you to all who submitted ideas. With nearly 50 suggestions, it was a tough decision! Beverly was recognized and received a $100 Visa gift card at the conference.
Meet our 2023 Keynote Speaker - Sericia Nelson
Sericia Nelson – Strategic Communications Consultant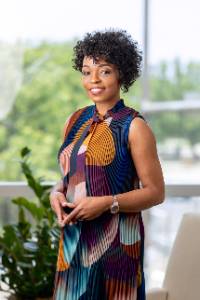 Nelson is a bridge-builder who connects people, resources, ideas, and messages.
Professionally, she harnesses her vast experiences to serve as a multi-faceted strategic thought partner and consultant.
With a foundation as a former TV news producer, she crafts PR strategies and communications plans, manages social media platforms, and creates compelling, inspiring content. An intrepid visionary with an entrepreneurial spirit, she has helped to launch the Arkansas chapter of the national nonprofit City Year and served as editorial director of a general-interest lifestyle magazine highlighting African Americans in Arkansas.
Additionally, Sericia led the Mosaic Templars Cultural Center, Arkansas's museum of African American history and culture, as its Executive Director. She's also served as Vice President for Advancement & External Relations at Philander Smith College, a private, four-year HBCU, and held the role of Community Affairs Officer for Simmons Bank in Arkansas.
Nelson's broad background also includes having worked as Director of External Relations for the 45th Governor of Arkansas (Mike Beebe). As a high-level strategist, she currently works to shore up communications, identify solutions, and mobilize resources to ignite progress for higher education and business leaders, nonprofit executives, and politicos across the country.
Sericia and her husband Mark, a fellow professional communicator, spend their time wrangling their blended crew as they make their nest in their hometown of Little Rock, Arkansas.
About Support Staff Conference
Support Staff Conference is open to any UADA employee working in a support function, including but not limited to administrative specialists, fiscal specialists/analysts and program assistants, as well as others working in support units such as Human Resources, Finance and Facilities.
Questions?
Please contact Vanessa Lewis at vlewis@uada.edu.