COVID-19 Resources
COVID-19 Booster Eligibility: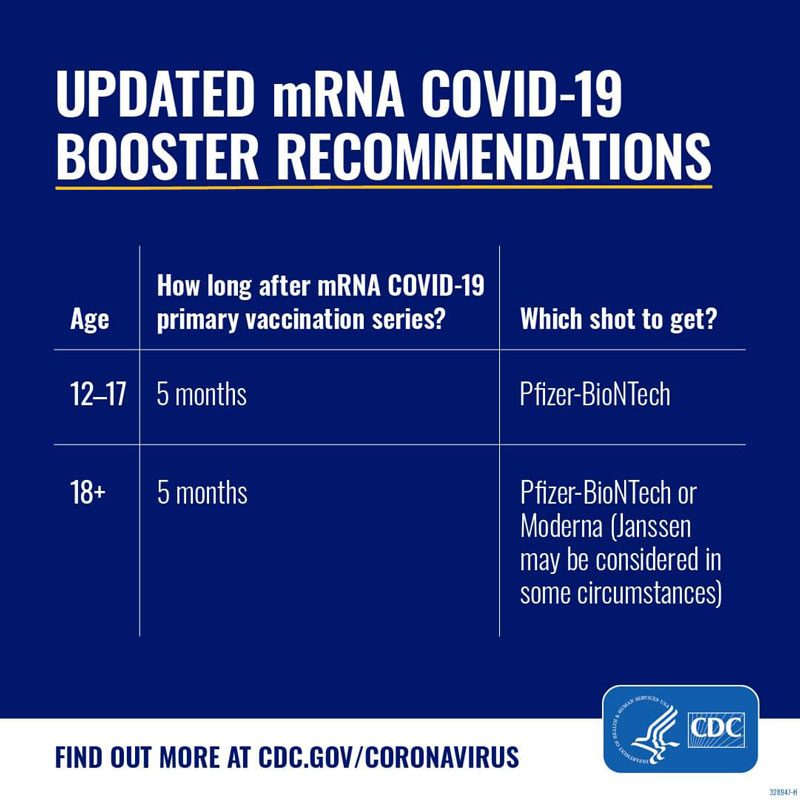 Everyone age 12 and older is eligible to get a COVID-19 booster dose.
Moderna recipients age 18 and older should get a booster at least 6 months after second shot.


Pfizer recipients age 12 and older should get a booster at least 5 months after second shot.


Johnson & Johnson recipients age 18 and older should get a Pfizer or Moderna booster at least 2 months after initial shot.


Children younger than 12: a booster is not recommended at this time.
The CDC recommends that people who received the Johnson & Johnson vaccine get a Pfizer or Moderna booster. The CDC advises people who got a Pfizer or Moderna vaccine to get the same booster as their initial vaccine, but allows them to mix and match (i.e., get a different COVID-19 booster than their initial vaccine) depending on preference or availability—with the exception of adolescents age 12-17 who are only eligible to receive the Pfizer vaccine
If you have questions about your eligibility for booster doses or which booster you should get, speak to your health care provider.
Children and Vaccinations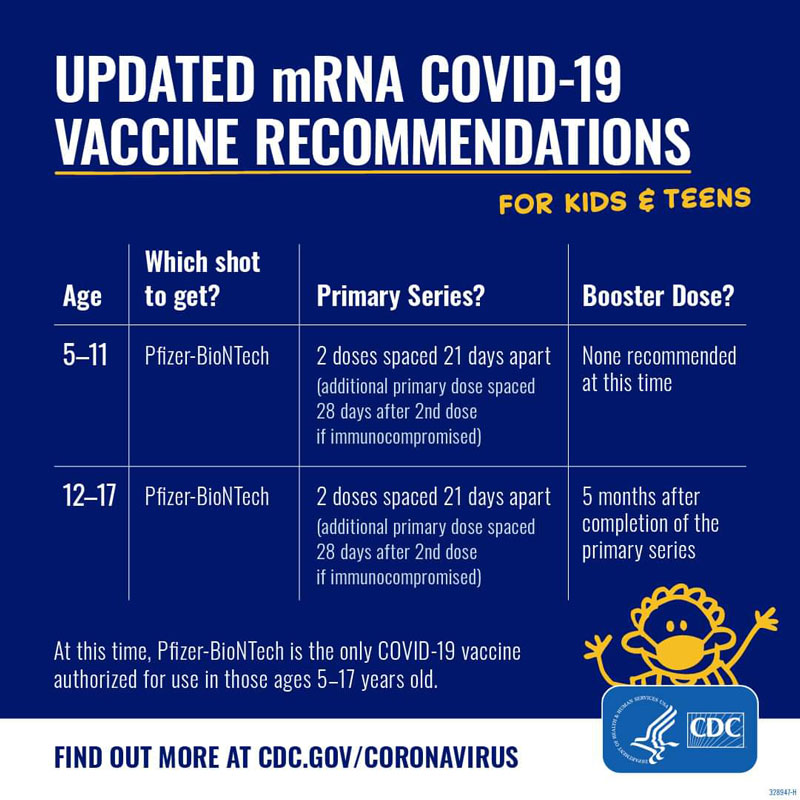 The CDC recommends that children and adolescents age 5 and older get a COVID-19 vaccine. The Pfizer COVID-19 vaccine is authorized for children and adolescents age 5 and up, as a 2-dose series taken 3 weeks apart. The dose for children age 5-11 is one-third of the dosage of the vaccine for older adolescents and adults.
Vaccination is the best way to protect children age 5 and older from COVID-19. COVID-19 has become one of the top 10 causes of pediatric death, and tens of thousands of children and teens have been hospitalized with COVID-19. While children and adolescents are typically at lower risk than adults of becoming severely ill or hospitalized from COVID-19, it is still possible.
The vaccine is safe and effective. Before being authorized for children, scientists and medical experts completed their review of safety and effectiveness data from clinical trials of thousands of children. The Pfizer COVID-19 vaccine was rigorously tested and reviewed, and more than 11 million adolescents ages 12-17 have already safely received the COVID-19 vaccine.
Omicron Variant Information
What is the Omicron variant?
Omicron is a new variant of the virus that causes COVID-19. The Omicron variant has been detected in a growing number of countries, including the U.S.
Is Omicron as serious a health risk as other variant? Is it more or less contagious?
While health officials are still collecting data to answer these questions fully, we know that Omicron can be serious, especially for those who are not vaccinated. Omicron spreads more quickly and more easily than the Delta variant and may evade our immune system's defenses. Even those who are vaccinated can spread Omicron to others. However, the best way to protect yourself from serious illness and hospitalization due to the Omicron variant is to get vaccinated, and if you are vaccinated, to get a booster dose of COVID-19 vaccine.
Are the vaccines effective against this variant?
Current vaccines are expected to protect against severe illness, hospitalizations, and deaths due to infection with the Omicron variant. However, breakthrough infections in people who are fully vaccinated are likely to occur. With other variants, like Delta, vaccines have remained effective at preventing severe illness, hospitalizations, and death. The recent emergence of Omicron further emphasizes the importance of vaccination and boosters.
Should I upgrade my mask? How do I know which masks will protect me?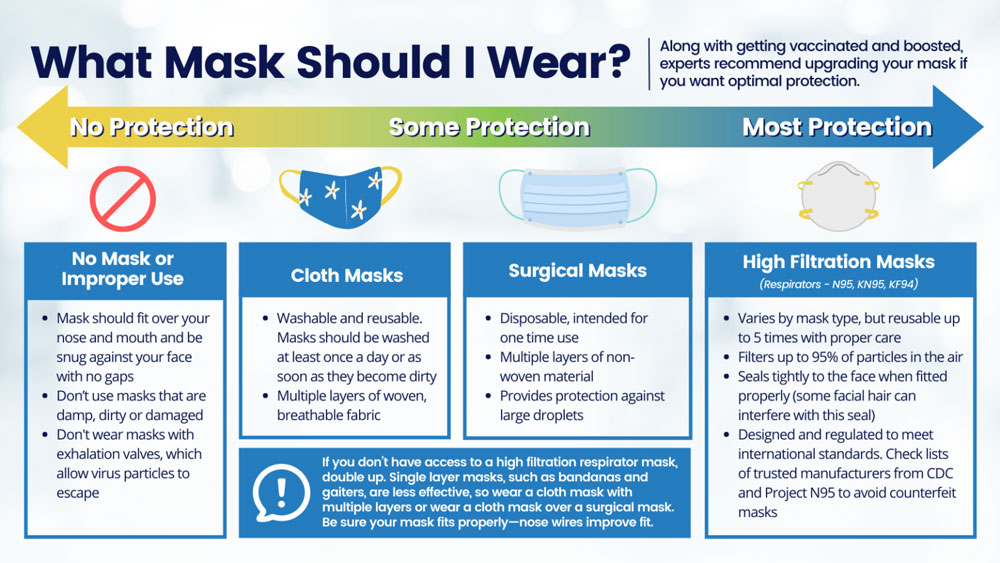 Along with getting vaccinated and boosted, wearing a well-fitting mask over your mouth and nose in indoor public settings or crowds (whether indoors or outside) is crucial to preventing the spread of COVID-19. With the rapid spread of the Omicron variant, experts are recommending that consumers upgrade their mask to a high filtration respirator if they want optimal protection.
Delta Variant Update
Yes. Vaccination is the best protection against Delta.

The most important thing you can do to protect yourself from Delta is to get fully vaccinated, the doctors say. That means if you get a two-dose vaccine like Pfizer or Moderna, for example, you must get both shots and then wait the recommended two-week period for those shots to take full effect.

Whether or not you are vaccinated, it's also important to follow CDC prevention guidelines that are available for vaccinated and unvaccinated people.

Unvaccinated people are at risk.

People who have not been vaccinated against COVID-19 are most at risk. In the U.S., there is a disproportionate number of unvaccinated people in Southern and Appalachian states including Alabama, Arkansas, Georgia, Mississippi, Missouri, and West Virginia, where vaccination rates are low (in some of these states, the number of cases is on the rise even as some other states are lifting restrictions because their cases are going down).

Kids and young people are a concern as well. "A recent study from the United Kingdom showed that children and adults under 50 were 2.5 times more likely to become infected with Delta," says Dr. Yildirim.

And so far, no vaccine has been approved for children 5 to 12 in the U.S., although the U.S. and a number of other countries have either authorized vaccines for adolescents and young children or are considering them.

"As older age groups get vaccinated, those who are younger and unvaccinated will be at higher risk of getting COVID-19 with any variant," says Dr. Yildirim. "But Delta seems to be impacting younger age groups more than previous variants."

Yes. Delta is the name for the B.1.617.2. variant, a SARS-CoV-2 mutation that originally surfaced in India. The first Delta case was identified in December 2020, and the strain spread rapidly, soon becoming the dominant strain of the virus in both India and then Great Britain. Toward the end of June, Delta had already made up more than 20% of cases in the U.S., according to Centers for Disease Control and Prevention (CDC) estimates. That number is rising swiftly, prompting predictions that the strain will soon become the dominant variant here.

The World Health Organization (WHO) has called this version of the virus "the fastest and fittest." In mid-June, the CDC labeled Delta as "a variant of concern," using a designation also given to the Alpha strain that first appeared in Great Britain, the Beta strain that first surfaced in South Africa, the two Epsilon variants first diagnosed in the U.S., and the Gamma strain identified in Brazil. (The new naming conventions for the variants were established by the WHO at the beginning of June as an alternative to numerical names.)

"It's actually quite dramatic how the growth rate will change," says Dr. Wilson. Delta is spreading 50% faster than Alpha, which was 50% more contagious than the original strain of SARS-CoV-2—making the new variant 75% more contagious than the original, he says. "In a completely unmitigated environment—where no one is vaccinated or wearing masks—it's estimated that the average person infected with the original coronavirus strain will infect 2.5 other people," Dr. Wilson says. "In the same environment, Delta would spread from one person to maybe 3.5 or 4 other people."

"Because of the math, it grows exponentially and more quickly," he says. "So, what seems like a fairly modest rate of infectivity can cause a virus to dominate very quickly—like we're seeing now. Delta is outcompeting everything else and becoming the dominant strain."
Self Reporting
Please complete the COVID-19 Self Reporting Form within 24 hours of a positive COVID-19 test result, being tested, being symptomatic, or being notified that you (or the affected individual) are a primary contact. A primary contact is defined as contact with someone who was within 6 feet of a Covid positive person for 15 or more cumulative minutes within 48 hours of that person being symptomatic or before the test was taken, if asymptomatic.
Division Stages and Policies
For more information on COVID-19 Stages for the Division, mask usage, and additional guidelines, visit our Division COVID-19 page.
COVID-19 Vaccines - Facts and Information
For information on COVID-19 vaccines, visit the COVID-19 Vaccine Facts page.
COVID-19 Leave
The University will extend the opportunity for up to 80 total combined hours of paid leave for employees affected by COVID-19. The leave program is not a continuation of the FFCRA leave.
For such paid leave to be granted, the following requirements must be met:
The employee must be unable to work from home due to illness or have a job in which working from home is not possible.
The employee must not have previously used 80 hours of COVID-19 leave as was provided by the federal Family First Coronavirus Relief Act (FFCRA).
Due to Coronavirus the employee is subject to a federal, state, or local quarantine order.
The employee has been directed by the Department of Health or other health authority to quarantine due to Coronavirus.
Due to Coronavirus the employee is subject to extended campus return-to-work guidelines (up to14 days rather than the seven and ten day options provided by the AR Department of Health).
The employee is experiencing Coronavirus symptoms and is seeking a medical diagnosis.
The employee must provide care for their dependent child whose school or daycare is closed due to COVID-19.
The employee must provide (within a reasonable time established by the campus) appropriate physician, school, Department of Health or equivalent documentation supporting the leave utilization.
Employees who used a portion of the available FFCRA 80 hours in 2020 may use the remainder as COVID-19 leave in 2021 but in no case may use a combined total of more than 80 hours.
Including leave previously used under FFCRA, COVID-19 leave is limited to no more than total of 80 hours for any combination of quarantine, illness or child care leave eligibility.
The 80-hour maximum will be prorated for less than full-time employees.
Employees using COVID-19 leave will be eligible to receive full pay but not to exceed $511 per day or approximately $133,000 annualized.
Whenever possible, work from home rather than paid or unpaid leave should be used.
Failure to provide appropriate documentation for COVID leave will result in recharacterization of the leave taken as sick, vacation or leave-without-pay within the established leave use guidelines. (Sick leave may not be used for child care purposes due to school closure.)
Qualified leave may be applied retroactively to August 1, 2021.
COVID-19 leave guidelines will be modified, suspended or ended as necessary to meet changing needs and regulations of the current environment. For more information on our COVID-19 policy, email covid@uada.edu or to request COVID leave use the COVID-19 Leave Request Form.